Hear that?
That's the sound of a hallelujah chorus playing in celebration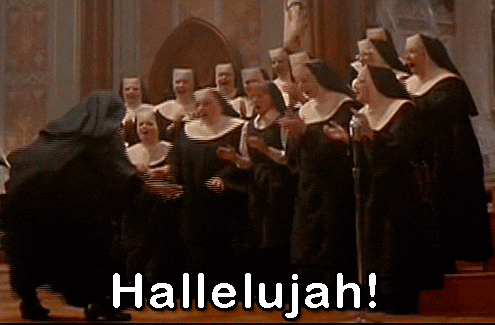 Yup.
You guessed right, a miracle has occurred, the paint has arrived!
Six tins of painty fun!
Though no wallpaper. And they forgot one of the roller tray sets.
But never mind! Because most of it is here and for now that will keep me happy :)
We've already started on the top half of the living room, a gorgeous clean white, and the bottom half will be started on next week in Country Blue, i'll do a wee tour when it's finished :)
The reason it won't be done until next week is because the plaster needs at least 4 weeks curing before it can be painted on. Irritating when i just want to get on with it lol
To keep myself busy i painted my little telephone table
and the basket below is halfway through being painted, i'm waiting for it to dry before i do the next coat.
I also painted my "Dresser" and how lovely it looks now :) the paint has really pulled it together don't you think?
I sacrificed an old pillowcase to make teeny curtains.
The blue is the very same colour that shall be going on the bottom half of the living room
The back panel looks a
bit scatty right now, but that's because it is waiting for the wallpaper to turn up (apparently the supplier can take a while to get their act together, the nice lady on the phone from Dulux told me) to be honest i only ordered it to make up the last of the voucher but it's sooo pretty!
This is the one i've chosen, rather Cath Kidston-ish :)
What do you think? :)
I've been busy in the kitchen again, i've baked more pumpkin seed bread rolls to go with some delicious Leek and Potato soup
This is the Bearded Wonders' recipe (he's a chef) and it's sooo scrummy!
You Will Need:
2 leeks
4 medium size potatoes
2 chicken stock cubes
sprinkling of salt and pepper
600ml boiling water
1 small onion or half a large one
Chop your leeks and onions and sauté them in butter on a medium heat (or margarine, but butter is nicer) for 5 mins until just soft
Peel and chop potatoes roughly, plonk them in the pan, add your water and sprinkle in the stock cubes and salt and pepper
Bring to the boil for 5 minutes, stirring so it doesn't stick to the bottom of the pan then bring down to a gentle simmer for roughly half an hour, again stirring occasionally
Mash or use a food processor to bring it together and make it really thick and yummy!
Ladle into a bowl and enjoy! :)
I also had a huge chocolate craving so made the chocolate version of Mary Berry's
Fork Biscuits
Yum!